Thanks so much Cruise Cycle for the idea of that case and other ideas.
In this doc I'm starting to list things:
Also the current PC PARTS list: (which I keep playing with…might try next gen i5…but gets more expensive)
https://au.pcpartpicker.com/list/
I've done a rough cut out of the various sizes: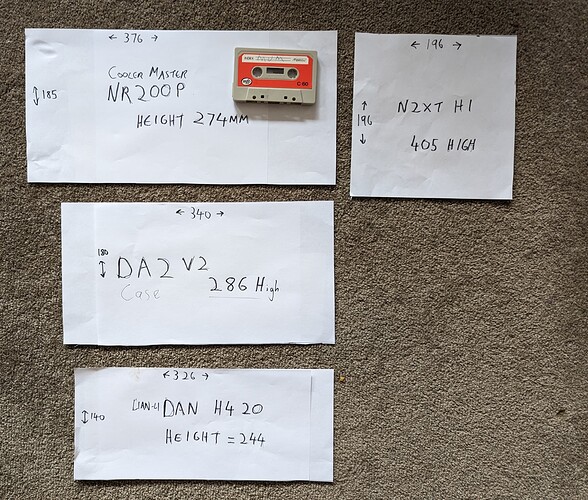 Your TREACOM DA2 V2 mini-ITX case may well be a great contender…it appears it will have a bit more room than the Dan H420…which does seem very small.
On fitting the radiator…there is a thread here that debates what fits…with some people indeed being caught out with problems:
Someone says that Cooler Master ML240L V2 (the regular version not mirror or illusion) is ok.
My last big debatable points are the Motherboard. As Vindes says above:
"You have a B660 based motherboard. I have gone with Z690 boards instead because they support higher bandwidth for storage and graphics."
I've looked below…the Z690s become quite expensive…compared to everything else in the proposed build. Very open to suggestions here!
Hoping to order something in th e next day or two…but very open to suggestions from people!
Thank you so much for any ideas at all!