No, why you think that?
I use at home a Tascam 2x2 and with the Band a Behringer XR18.
Why should some Dell models have issues with audio?
Google it, I found that when I had issues with my HP.
Some recommendations?
OK, Strange when using an external Audio Interface.
Sorry I cannot recommend, I am on Mac.
I have a HP Zbook with a Xeon processor. It is very fast and I found it's internal audio interface and drivers to be able to handle quite a lot.
I used a HP Z-Book (i7/16GB) before but if the rackspaces were getting a bit "heavier" it wasn't fast enough and it went hot and loud (the fan) quite quickly.
So now i built my own "laptop", ok it's more a tabletop, but it's transportable and it has all i need in one (suit)case… i7@4GHz, 32GB RAM, 2x 1TB of SSD (M2 drives), water cooling (efficient and quiet) and a 21" screen where you really can see everything. Ok… it's bigger and heavier, compared to my former Z-Book.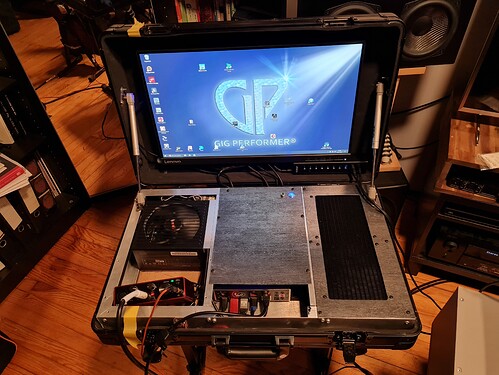 Thanks.
(I still have to integrate the audio interface though)
And at home i can connect it to my big 55" tv screen since the mainboard i chose offers two video outs.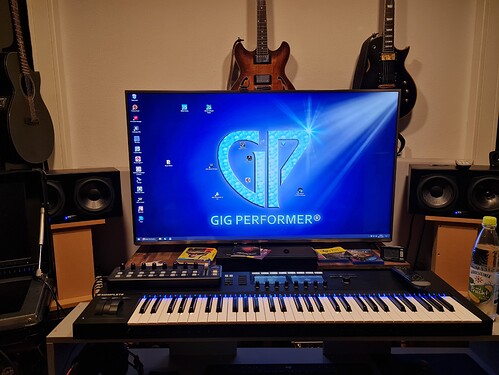 Thanks for the info so far.
I am native German speaker, thanks for the link.
@schamass That looks loke a "hobby in a hobby"…
When I bought my Notebook it was just to control the surface of the digital mixer, now the whole band should run through GP, mainly 4 midi tracks with its VSTs + 4 mics with its effect VSTs + sometimes the E-drum with its effect vsts…
Paralell a DAW is runing paralell to record it. Depending on the number of effects and type of VSTs the Notebook is handling it. but its on its Edge… I stripped it already down for an optimized performance.
I will invest what is needed, if possible it should be in a range of 1K€, but this is not mendatory.
Following a link to some settings which could help other win user. I hope this is allowed,
Flodder
@npudar
Thanks for the link. Most settings I had already, it's currently working on the "indexing", since about 20 minutes, I hope everything is runing well… (350 GB on hard disc)
I guess I squeezed all out of my actual notebook, let's see.
@schamass
Same you did with your "Computer" I did with the XR18 incl. needed equipment. It's actively cooled
and easy to travel with…
With all the incoming cables it looks "unorganized" but it works grate for a quick set up!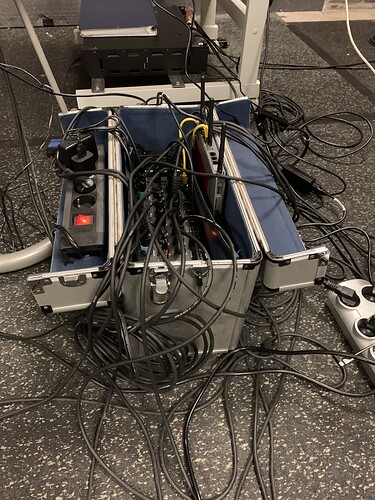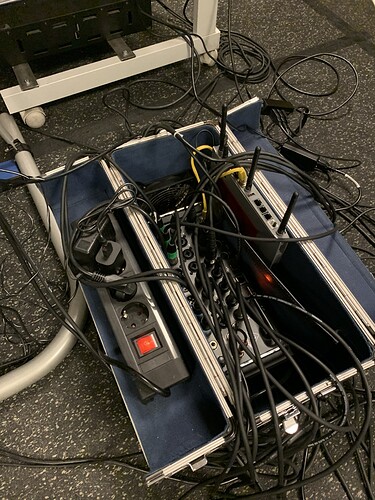 Cool thing! Looks very handy.
Man, that's cool! Would you mind posting the build specs? Thanks!
Your request seems to be easy, but it is not. It is a question of latency which always depends on the CPU, the Audiointerface, the driver, the amount of tracks / Effects you want handle live.
As I do use a lot of different RME interfaces and have a lot of experience with different CPU types I can say your interfaces are not well known as interfaces with a excellent latency. So I am nearly sure it does not help to take a 1000€ Computer and all your problems will leave.
Even in a Highend level environment with Computers that costs 5-10.000€ you can still have troubles (which results in horrible crackle sound). For live sound this must well be planned and tested…
I know that, for that reason I asked for the model
of notebook others are using successfully.
My above mentioned HP Pavilion is generally working with my set up (after modification) but I guess it's on its "limit". Sometimes I got some problems even if the CPU is showing not more as 60% (on peek). (with Keyscape for example)
If I have a look on the kernels in the task manager I can see that the work is not well shared,
Hi,
I guess you meant the system from schamass, right?
Sorry man, i totally forgot this… i'll have to check the invoice first, because i can't remember all the details anymore. I will come back to you this afternoon.
Yes, that's correct. Thanks!