In the last few days, I had the chance to use Gig Performer for playing live shows. Weihnachten Neu Erleben is a charity event with a structure similar to a musical: The whole show revolves around a theatrical performance which aside from acting incorporates live music and dance. While the story is written specifically for the event, the music is almost exclusively well-known pop songs (although we did incorporate our first original song.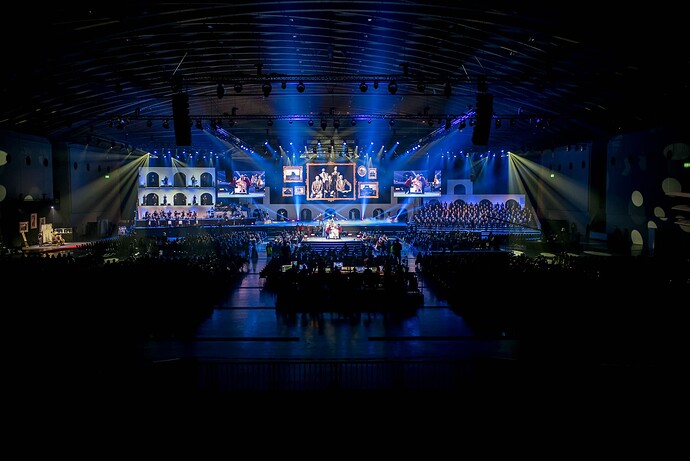 Rig setup
I needed piano, synths and a few SFX sounds for this gig, so I opted for a two-keyboard setup:
The Roland RD-2000 for its high-quality full size keybed. It also features LED-equipped sliders and rotary encoders, but (to my frustration), you can either receive or send CCs from them, but never both. So bidirectional widget syncing is not possible
Instead, I used the Komplete Kontrol S61 Mk2 for widget control. And of course, it features an excellent synth action
Furthermore, I had:
An iPad displaying sheet music using forScore.
Several foot controllers:

sustain and sostenuto pedals
an expression pedal
a double footswitch for turning pages in forScore.

A ME-1 personal mixer for in-ear monitoring.
And of course, Gig Performer 4 as the centre of the rig. It was a great fit!
Being able to wire up plugins uniquely for each rackspace was great for sound design. Especially parallel processing (and multiple stages thereof) are super easy to do
Quick and seamless patch switching. It's just great having this work reliably and smoothly every time
The integration with forScore was really nice: I did not want to trust a bluetooth foot controller since lots of UHF stuff was going on, so instead I used a wired foot controller plugged into the Komplete Kontrol. Using widgets in the global rackspace, I could easily translate pedal presses into MIDI messages for page turning pages in forScore. Furthermore, forScore sent Program Change messages to switch between songs in Gig Performer.
The widget system is super flexible: Aside from bidirectional knob synchronisation with the Komplete Kontrol, it allowed for much more exotic things like:

Manipulating plugin settings on specific keys being pressed and/or released.
For one special scene, I needed to play a white grand on the center stage as opposed to my regular position on the side stage for the band. Using a MIDI-over-CAT transmitter, I could still play through my regular rig, which made things easy for monitoring, FOH and recording. The grand only had 88 keys and a sustain pedal but I still needed to change patches from over there. Using widgets and the new System Actions block, I could remap one of the piano keys so it would switch to the next song exactly once.

I needed flexible audio routing - this was a breeze using the global rackspace.
I did not have all of the controllers available during rehearsal; the MIDI grand actually arrived super late and I had mere minutes to set it up. But it actually worked, because I could prepare everything, including changing songs using piano keys, beforehand and then just switch the MIDI device using the rig manager.
All in all: The rig worked flawlessly and without glitches, so I could focus on playing music and having fun for 13 great shows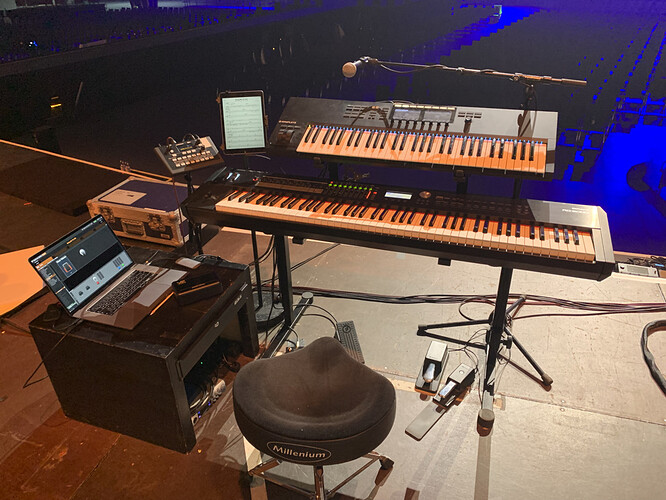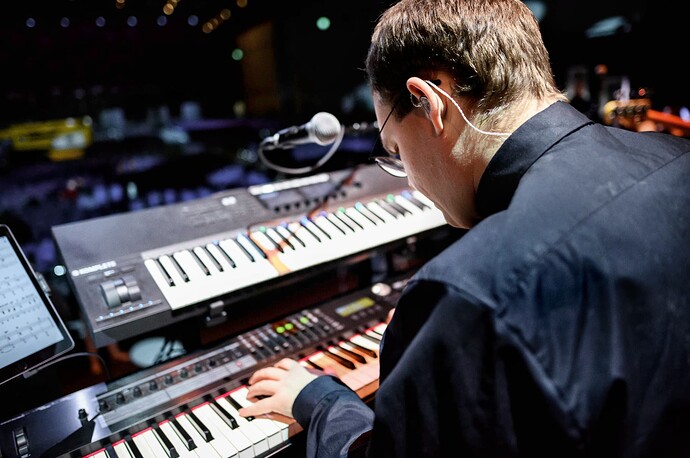 COVID notice

The COVID situation in Germany is currently quite dramatic - and of course, gathering people for indoor shows poses a thread. So our project leads had extensive talks with the local authorities to check if we could do the shows and still be reasonably safe for crew and cast as well as visitors. We took the following precautions:

Everyone (crew, cast and visitors) had to provide proof of either being vaccinated at least two times or having recovered from COVID.
Everyone (crew, cast and visitors) had to provide proof of having been tested negative for COVID at most 24 hours before check-in.
Everyone (crew, cast and visitors) had to wear masks at all times except when on stage.
The visitor capacity was reduced drastically: From ~8000 people per show (pre-pandemic planning) to 750 people per show.
By the way: If you want to know more about Weihnachten Neu Erleben, you can visit the website, watch a short recap or the full length TV recording, which will be published on YouTube on sunday