Here is a PANEL for S GEAR AMP THE STEALER
S-GEAR THE STEALER 01.gppanel (571.1 KB)

Yeah, nice to see you here as well as on the Scuffham forum, @Fatherjacques !
Let me know what you think. It is my first panel
Nice
You can also post the whole gig file
Examples are here:
Here's another vote for a gig file. The view is excellent; however, often the challenge is to figure out the correct mapping of parameters.
The Stealer is excellent, as are the other S-gear amps. Nice panel!
It is very nice and we appreciate your contribution!
Looks pretty cool!

But i also would appreciate if you could upload a gig- or a rackspace file, so that all the connections between the widgets and the parameters would have already been made and we had something to try which works right "out of the box".
With the layering improvements for widgets in GP4, I tried to get as close as I could to the real Stealer. We really need the ability to have different font colours on the Text Label widget - so that's definitely on my wish list for a later GP version.

Note, my fake shadowing doesn't work perfectly when resizing, so it's more a 'proof of concept'
+1
+2
+3
Like I said I am new to Gig performer and did not read the manual yet. However here is my first Rack space. For the Helix Native Snapshots I put two ways of selecting them. For the buttons I know how they should behave but do not know how to do it LOL!
JACQUES GUITARE 1.rackspace (1.8 MB)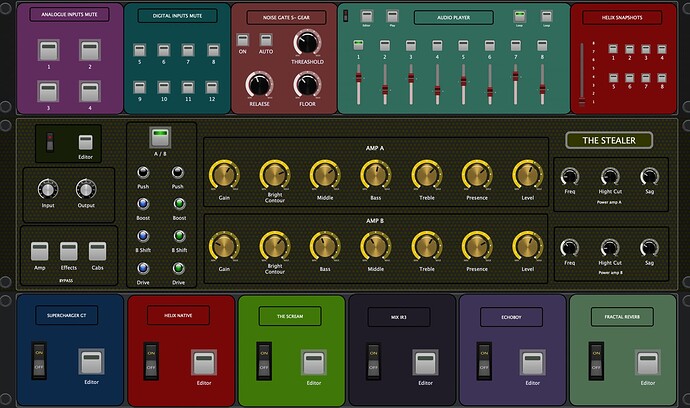 Perhaps read the manual?
In Desktop view, besides the Home, Blog, Downloads, recently the "Docs" label is added so people can refer to the documentation very quickly.
I need scripts and I am really bad at this type of things
There is lots of flexibility in GP to get most things done without needing scripts.
If it was specifically Helix Native you're talking about, there is a great user rackspace that uses buttons for the snapshot selection. Otherwise, please start a new topic with your questions and we'll be happy to help.
Thanks for the reply.
I downloaded The 8 Snapshots Gig and integrated to my Rig. I realized I am not a programmer!
However I learned a lot trying to make it work and behave correctly. At the end I managed to do it. I had to switch the Helix Native in my Wiring from Audio Unit to VST3.
I still don't know why but it seems to work now