Feels so good! Finally rehearsing again for the upcoming gigs with my band Powerlord.
This is my key rig for practicing with Gig Performer 4 in the band studio.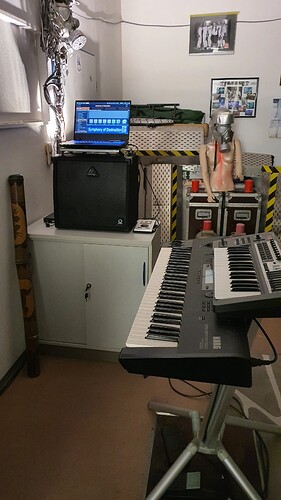 I'm using my vintage Korg Wavestation as a master keyboard only, because of it's unsurpassed synth action keybed. MIDI out of the WS goes into an Edirol Roland PCR-300 keyboard controller velcro-flown
on top of the Wavestation. From there, MIDI USB goes to my laptop (Clevo PB51DDS, Win10) in the side-fill, running GP4. Keyboard stand is a K&M Baby Spider Pro, with ducts for hiding all cables, avoiding cable chaos on stage. Only one USB MIDI line and one AC power line go from my key rig to the side fill.
All GP actions are remotely controlled from the PCR, like song changes or switching variations, and using MIDI CCs to modulate sounds during performance by widgets. So the laptop can be hidden several meters away safely located in the side-fill. (No cupboard on the real stage, of course). For visual feedback, I only need present and next song IN LARGE LETTERs. This is solved by the external API "GP Selector" from @rank13: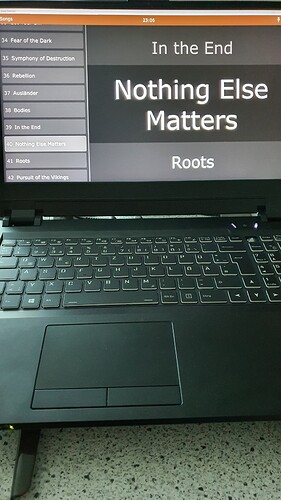 Main VSTs are Spectrasonics Omnisphere 2, NI Kontak 6 with various 3rd party libraries, and Steinberg HalionSonic as well as the old Hypersonic, jbridged to 64bit.
Audio interface is a RME Babyface Pro, run reliably with 96 samples buffer at 44.1kHz. The interface is poviding one line out to my own stage monitor amp (Behringer Ultratone KDX12), and from the XLR outs a stere sum of my sounds go to the FOH mixing desk.
Real stage and live impressions hopefully to come, starting from May.