I know the topics of CPU utilization, multi-threading and audio glitching has been discussed here ad nauseam, and I have read the related postings. So I guess I could use some advice on how to balance the number of rackspaces (to reduce load/startup time) and CPU utilization (to reduce audio glitching). Here is my setup.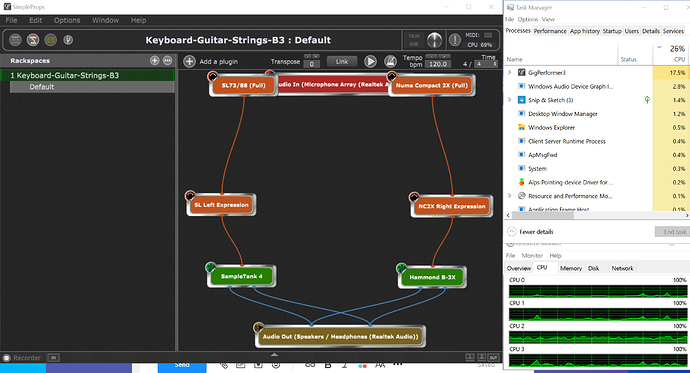 Without playing a single note, GP's CPU meter is reading 69%. On my four-core i7 laptop, Windows Task Manager only shows 26% CPU load and Windows Resource Monitor shows that the load is distributed across all four processors. Although CPU 2 has the balance of the load, it is still at around 60%. When I start playing notes on my MIDI controller, the CPU meter in GP quickly spikes to 90-100% and audio starts glitching badly.
In this configuration, SampleTank is loaded with 11 instruments that I switch between for pianos, clav, guitars and strings. The B-3X plugin is just a straight B3 through a Leslie 147 with some drawbar widgets on the front panel. I was hoping to use this rackspace with multiple variations to cover about 2/3 of my setlist. This rackspace loads in under 30 seconds, so I thought this was better than the > three minutes I was seeing when I had a rackspace per song. However, this rackspace is unplayable due to the constant audio glitching.
I assume that I need to pair back the number of instruments loaded into SampleTank, but I was hoping for other options that would allow me to maintain this configuration or something close since it otherwise meets my needs.