Another great tip from @pianopaul
Link: Strange CPU usage when using FM8/Absynth5 from NI
If you experience strange CPU/Network usage, pay attention on this tip and review settings of your plugins.
Actually this issue may apply to all NI plugins, not just those two.
Here's an A/B test from @Hermon regarding the Intel technologies: Optimizing a PC and Windows - #10 by Hermon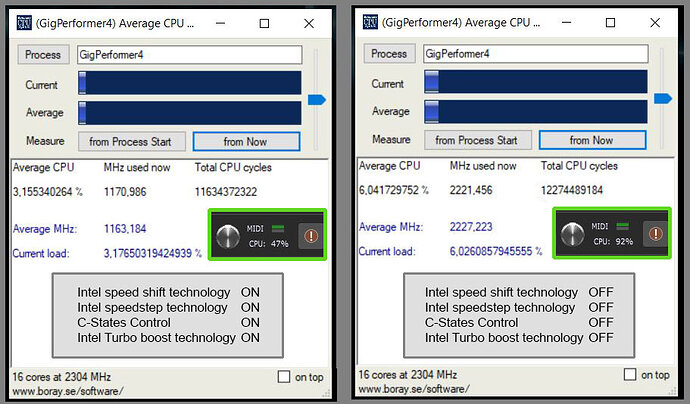 –
Intel Speed Step → LINK
The guide is now updated to include Windows 11

The first post is updated and all corresponding files.
There are a few more tips included.
Enjoy and spread the word if you like it!
As I understand, this guide shows what to do on Windows so that the machine becomes fast.
What about a guide to show what NOT TO DO on Mac to stay fast
I think that this is not the right thread to discuss this
The first post is updated and now has 7 tips that are collected in various threads in the Gig Performer Community.
Yes, for those that are interested to see what's happening in the macOS world here is the macOS optimization guide.
In that thread will be indexed all tips that are presented there and those that I find across our community. There are already two indexed - Simon's workflow speed-up tip and a High Sierra optimization script that disables many system stuff on a Mac and therefore providing the glitch-free experience.
New tip: Check Bluetooth and USB 3.0 interference.
More info: LINK
New tip: Speeding up Windows library load times.
Just to mention Quick CPU here, as well, so it doesn't get lost.
An interesting tip: Disable the E-Cores in the UEFI/BIOS setup (if available).
→ some tests have shown that tasks which are not in focus and run in background, such as rendering jobs, minimized windows or real-time audio tasks, could end up on the much slower E-Cores. And can lead to audio dropouts and reduced performance.
So what are "E-Cores"? Systems with hybrid-architecture CPUs are utilizing performance cores (P-Cores) and efficiency cores (E-Cores), such as the 12th Gen Intel® Core Alder Lake or newer.
Note: if such an option is not available in UEFI, as a workaround, one can set up the CPU Affinity for an app using the Task Manager or a 3rd party app, such as Process Lasso.
There is some talk on the Internet about reducing the DPC latency by disabling HPET (high precision event timer).
In the Device Manager locate System devices, then right click on High precision event timer and select Disable to stop the HPET service.
–
While this tip may be good for gaming, I'm not convinced that it will improve audio. If somebody already did this, please let us know (and what are the results)
Hello, npudar, is there really much indication that E cores cause a problem in Gig Performer (or is DAWs) ? Can you provide links?
Do you have "e-cores"? I don't have them, otherwise, I'd gladly test it.
Please google more about this tip, I stumble upon them very chaotically (i.e. I visit a dozen of audio-related forums monthly).
The last tip I found is that HAGS should be disabled: Wiki - How To Disable Windows 10 Hardware GPU Scheduler | OBS
Link: Sound in W10 stops working after Hardware-accelerated GPU scheduling is activated
Ok, I intel is going that route with most (all?) their new chips. I would "think" it it would help with GP. The GP thread would be highest speed core. And background Windows stuff would be on E cores.
I'll do some research.
Jeff
Nice video about DPC calls → LINK