So during my trial period of GP, I was trying to find a less CPU intensive DAW to run all my sounds for live. I am currently using Mainstage, and in the single GP Rackspace using less VSTs and plug-ins than what I'm using my Mainstage concert and I'm getting pops and crackles in the audio. I've tried running at different sample rates and buffer sizes (the recording was done at 44.1k, 2048 samples).
It doesn't happen in Mainstage, only time it would is if I do a glissando and get a pop from a CPU overload from too many notes being played at once. So I'm just wondering what could be the reason for the pops and crackles in the audio whilst playing as it's using less than half the CPU it would in Mainstage (65-90% vs.180-300%). The pops goes away when I bypass 3 instances of Omnisphere, so I'm just a bit puzzled as to why that's the case if GP's meant to be more superior as they advertise it to be in comparison to other DAWs.
Running a mid-2014 Macbook Pro i7 3.0GHz 16GB RAM.
I've attached a photo of the Rackspace and audio samples of the pops and crackles and from Mainstage as a reference.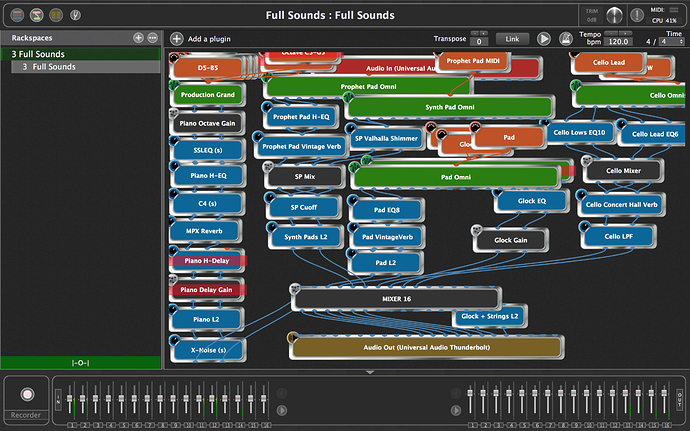 Audio samples can be heard in the links below: