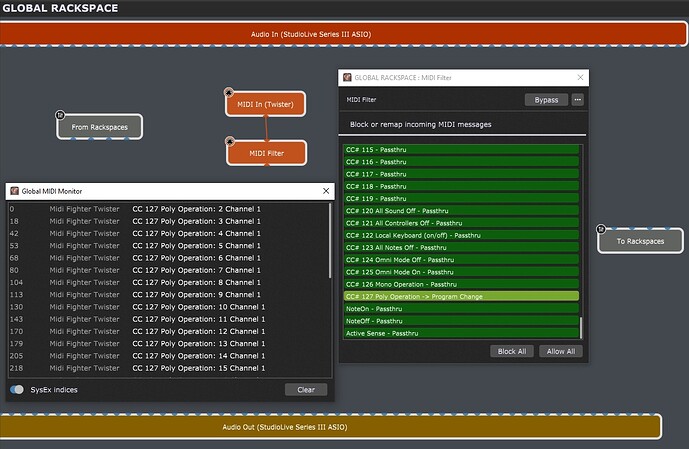 I'm trying to use program changes to switch rackspaces. This is working completely fine when I connect a Korg FC6 footcontroller which sends program change commands.
But I would like to use a Midi Fighter Twister (16 rotary encoders in 4 banks with additional switch function when pressing an encoder).
I is possible to assign any controller between 0 and 127 to the encoders. Some additional properties can be defined per encoder. But I can't assign the program change functionality to an encoder.
Therefore my idea is to reassign an incoming controller message to the program change functionality in Gig performer. I have seen that I can set this in the midi filter properties.
In the screenshot you can see that I have redirected incoming controller messages on channel 1 (interpreted as "CC127 Poly Operation") to program change. In the Global Midi Monitor you can see that the controller is working in general, and when I adjust the encoder additional messages appear on the Global Midi Monitor.
But currently Gig Performer doesn't change rack spaces when I change the value of controller 127. As you can see in the screenshot "MIDI-In (Twister)" is connected to the input of the MIDI-Filter. The output of the MIDI Filter in is currently not connected.
Does anybody here have an idea which additional connections I should configure so that the program changes reach their target (changing rackspaces)?