Hello again, GP Friends, especially @schamass, @Glen, @npudar and others
I'm trying to control a Behringer XR-18 mixer, and the tablet apps (both the XAir app and the Mixing Station app) are not cutting the mustard for me for live performance.
I was considering using an X-Touch Mini for live changes to faders, mute, and possibly other changes. However, after reviewing several YT videos, it looks like there must be a software bridge to connect the X-Touch Mini with the XR-18.
One software bridge option is called OsiMIDI Stage, as seen here: Video: XR18 controlled with OsiMIDI Stage + X-Touch Mini
Another software bridge is called The Link, as seen here: TheLink: X-AIR digital mixer + X-Touch mini
However, I know there are brilliant minds here at GP as demonstrated by those who have shared gigs, rackspaces, scripts, and more, so isn't GP the great software bridge between these two musical pieces of hardware?
For example, @Glen has shared a great rackspace/gig to control the X-Air 18 as seen here: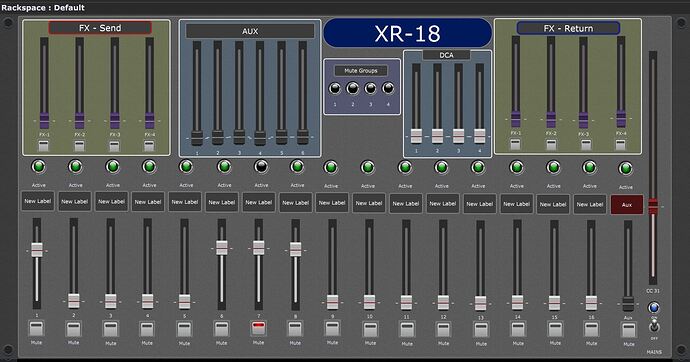 and can be read about here:
XR-18 controlled from GP4
Also, I believe @schamass created a great X-Touch Mini panel as seen here:


Read more about this here:
[Gig] Panel for Behringer X-Touch mini
I do not have the programming skillset to create this on my own, and I really do not want to pay for a third party app as mentioned above. Instead, I would gladly offer some remuneration to someone in the GP community to help create a combination of these two fine examples of creative GP ingenuity to have the X-Touch Mini control the XAir-18.
Or is the X-Touch Mini the wrong choice? Is the Korg nanoKONTROL2 the better way to control the basics of the XAir-18 without a tablet?
I welcome any suggestions and look forward to your responses.
As always, I thank you in advance for your time and responses.