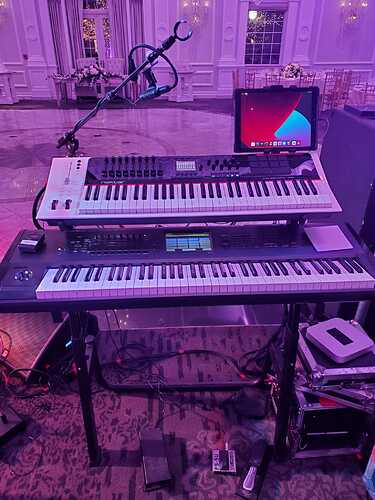 Glad to be part of this group and finally finding a VST host that does everything I could want and more.
Here's my current setup. I'm working on a new rack which will house the Mac Mini more securely, so excuse the mess on top of the rack.
Right now I'm using the Kronos for most of my sounds but have the Mac running Gig Performer for some specialized sounds and will soon have it doing a lot more.
On top is a Nektar Panorama P6, which has a nice keybed feel and is one of the few decent keyboards that I've found that has aftertouch and is USB powered (reliably)
The iPad runs Mixing Station for my in ear mix via an X32 monitor board. It also has Duet to show the Gig Performer screen when needed, which isn't often because it's rock solid!
Soon to come, a Behringer X Touch Mini for quick control of my mix and sounds in Gig Performer.
In the rack is a small UPS and a Motu M4 audio interface to for both the Kronos and Mac to go to FOH. I will be changing to a full width rack so I can have a little more storage for my cable loom in a separate divided section of the rack. Basically, the plan is to make it a half width rack on one side and an open space for cable storage on the other. When I have some free time!
For VSTs, I'm currently using Waves Morphoder for vocoder, being fed by Brainworx Oberhausen, Musiclab RealEight fed into Guitar Rig Pro for guitars, Impact Soundworks Pedal Steel for Kontakt.
Soon to be added will be GG Audio Blue3, IK Multimedia Leslie (TRacks), Modartt Pianoteq (Piano, Rhodes, Wurly, Clav), SWAM Solo Strings, NI Session Horns and Arturia V Collection.
I hope to start replacing staple sounds in my Kronos with VST versions and eventually run the entire show through Gig Performer with the Kronos as a backup sound source.
We are full time cover band that plays around 170 shows all around the Northeast US. We try to recreate the songs as authentically as possible without backing tracks or sequences, so it's always a challenge to program sounds creatively to get the best result that can be played with only two hands! With Gig Performer, I expect to spend a lot less time coming up with sounds as it's very intuitive and offers me tons of flexibility to route and manipulate sounds easily. The upgrade in sound from the Kronos to VST based instruments also allows me to do a lot less layering to get a fuller sound so that is something I look forward to as well.
Amos