I am trying to setup a generic program list that can be used by any of my keyboards via GP instances. This allows me to create one patch list, instantiate it as many times as I like, and then decide in realtime, which patch I want to use for which device. This is especially useful for jamming.
Most everything is working fine…
I have created dedicated IAC Bus to receive MIDI messages. I can filter them using a button matrix (shown below). I can also filter by input device/channel (not shown). Note: It would be nice if I could use a Global Rackspace for this, but I can live with copying it to every patch for now.
My problem is that I cannot map external controllers to the instances in a generic way because you force the channel number on the MIDI assignment for the widget (as shown below).
If I could set the channel to OMNI, then all instances could respond to the same MIDI CC, but on different channels - depending on how I filter them. So, in the case below the patch would respond to CC 7 no matter what channel it comes in on. This way different instances can use the same mapping, depending on the filtering and it would allow me to create an external mixer for all the generic instances using the same CC on different MIDI channels.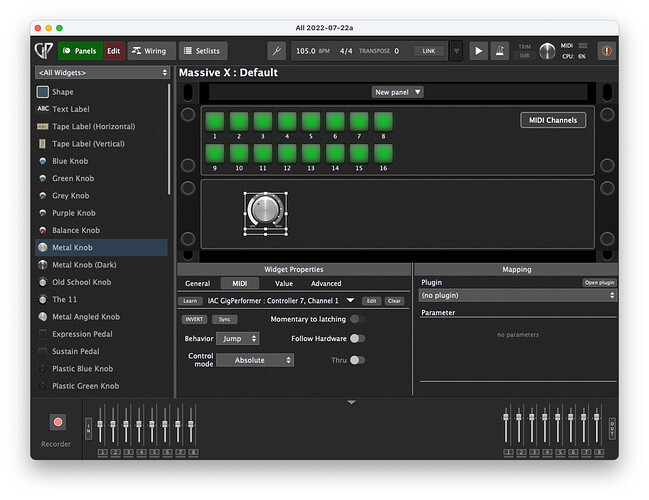 I can live without it - I just won't map a controller to the instances and use the UI instead for controlling instead, but it would be great if you could help me to get around this problem. The benefits of having one patch list for all my devices - which can be used in parallel - far outweighs the ability to control them externally via MIDI.