Quick heads-up on this new product. The first 50 sold on Amazon have a 50% off coupon option (checkbox under product price). I just preordered mine. Due in stock at Amazon on 7 November. List $49. Please post an update if you see that the discount/coupon is no longer available.
Amazon US product page: https://click.mlsend2.com/link/c/YT0xNTQyMTA2ODE1OTQzMTUyODM2JmM9ajVuMiZlPTc4OTc0JmI9NDQxMTU1NDg4JmQ9bjdiOGw1eQ==.9xYyF2I-MYwL3ea3YEm28pYJR532OwKpKc0ep5QwKDE
Amazon UK product page:

Editor's Keys product page: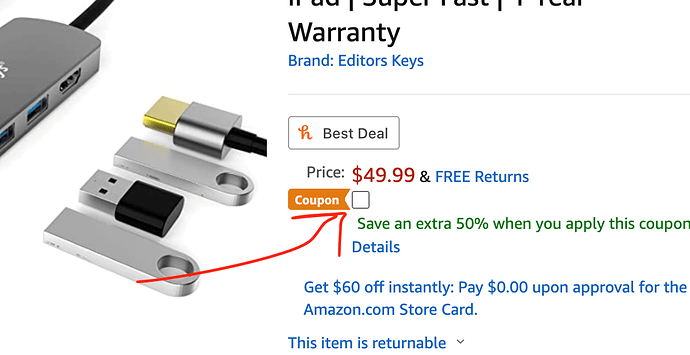 From their product page:
Your incredibly fast Editors Keys 8 in 1 USB-C adapter allows you to connect up to 3 USB devices (at the fastest USB3 Speeds), an SD card, Micro SD card, USB-C power, headphone output and HDMI output.
This means you can connect your USB Microphone, keyboard, recording devices, SD Card or MicroSD card to your iPad Pro (with USB-C) or USB-C MacBook Pro or PC or output to HDMI displays.
USB-C 8 in 1 Adapter
3 X USB 3 Ports supporting 5Gps data transmission.
MicroSD and SD card reader supporting up to 480Mbps
PD Charging port at 3.0 20V at 5A
3.5mm Headphone audio Output
HDMI 4K Output
Ideal for microphones, cameras and DSLRs.
Provide power to your iPad or device. (USB-C port on dongle is for power only.)
Works with iPad Pro, Macs, PCs and Android Devices
iPad Pro Users: As microphones and other devices require more power to be used, this adapter allows you to power your iPad device and use a microphone or camera at the same time, enabling enough power for the microphone to be used for recording.
If you'd like to use your USB microphone with your iPad Pro, simply plug in this adapter, connect your microphone/device then connect power to the adapter. Your microphone will now work with programs such as Garageband or other recording or video editing applications.
This will also work with any USB-C enabled MacBook Pro, PC or Android Device.