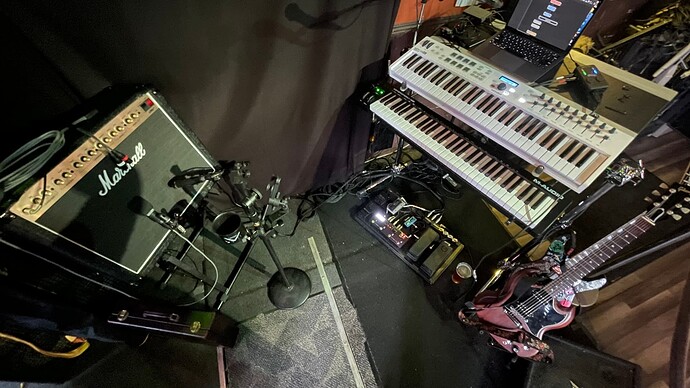 Mac M1
Arturia KeyLab 61 Essential
M-Audio Keystation 61
iRig Duo I/O
Roland FC-200 (not pictured)
Plugins currently used (primarily):
Arturia V Collection 7
IK Multimedia Syntronik 2, AmpliTube 5, Modo Bass, Hammond B-3X
Jam Origin Midi Guitar
Antares AutoTune
Trackbout RipChord
Currently, my guitar rig is separate, but I will be acquiring the Arturia MiniFuse 4 interface (4in/4out) , which will allow me to integrate it.
I've also just acquired IK Multimedia's TONEX, which will allow me to model my own amps and tones that I've worked so hard on.
Gig Performer has seriously blown the lid off of the possibilities I now have with my stage rig. Being a guitarist/bassist/keyboardist/vocalist in a few different bands, it's allowing me to simplify and streamline the technology I'm using (reliably) so I can concentrate more on the performance itself.