Hi,
Is there a way to send a MIDI message to an instrument VST plugin via a GPScript instead of connecting a MIDI In Block to the VST?
My use case is that I have plugins in several rackpaces that I have already attached an MIDI In Block (no problem so far). However I have an external MIDI controller that needs to send MIDI messages to the plugin (where the plugin does not have a parameter) as well. I don't want to have to add new MIDI In Blocks for this other controller into all of the rackspaces.
The plugin right now in question is "Strike". where you can send notes to start different drum patterns via notes but I'd like to set up my pedal to start and stop the drums which also uses a note message.
I know I could duplicate the blocks in all of my rackspaces but thought if possible I might be able to achieve this in a script that covers all rackspaces.
In the attached I have ONSONG already in the rackspaces and I would need to attach the MIDIBaby 3 as well in each rackspace. If this is the best practice then just let me know.
Again there are no plugin parameters for what I want to do, otherwise I would have mapped them and used a widget instead.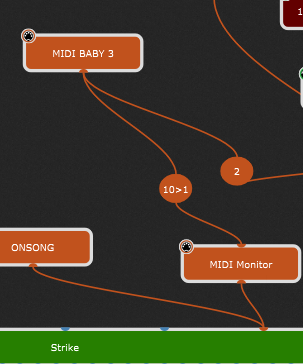 Steve