I decided to equip a second laptop as a spare in case of problems in live.
At the first launch of GP the audio interface is not detected.
I selected it in the audio options then GP crashes when I click on "apply settings" and I get the following error message: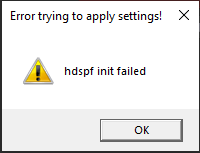 I sent a report.
PC Lenovo T430 / i5-3320M /RAM 8GB / Windows 10 Pro 21H2 / RME Babyface Pro