This will be really cool!
This could act as a flexible audio-midiplayer.
ooooooooooooo… I hadn't even thought of that. I've been wanting one of those…
X
I had zero use for Reason standalone in a real live situation but it's a blast to just play with. So a plugin version running inside GP might be really cool
Just read again,
seems the instruments and effects can be used as a plugin but not the daw itself.
But the instruments and effects seem to be good.
And they'll have to be VST3-only. Steinberg are no longer licensing the VST2 dev libraries. New devs can only get the VST3 libraries.
That's ok… Gig Performer supports VST3 plugins
OK for me, too. I have way more VI and FX plugins than I'll ever use. Bad GAS. Bad GAS.
About ten years ago I was able to use Reason (the whole application) within a "Rewire wrapper" VST2 plugin (sorry, can't remember the name nor developer) in my PC DAW (SAWStudio). It was a bit kludgy, but it did work: SAWStudio as master, Reason as slave.
Nice to see that Propellerhead is willing to coexist on a more friendly basis with other DAWs.
Regards,
Mike
The Rack and the SSL Mixer emulation are totally the strong points of Reason. This means lots of good sounding interesting instruments, FX and utilities to play with in a VST host. Plus they are also breaking out the Channel EQ, Channel Dynamics, and Master Bus Compressor from their mixer as individual devices inside the new vst rack. Those three sound fantastic inside of Reason, so really excited to use them in GP and Live.
And to @dhj
I want to have audio & midi player in same VST… like having a DAW (for playback of concurrent midi/audio tracks) inside of Gig Performer
1] Please confirm: Does Reason now provide that?
2] Do you know of any other VST that can play both midi and audio tracks like a DAW?
No idea what Reason contains…I've dabbled with it in the past but only with the synths
The same here. If an instrument doesn't come under the roof of GP, I don't bother with it. Now, I have a reason to upgrade my Reason from 10 to 11. A smart move on their part.
So far it seems to be behaving well in GigPerformer. I'll return here with more thoughts as the beta unrolls.
I've been playing with it as well – it really does seem to work well
I have it going also in case we need to test anything specifically with GP. I 'was' able to make an earlier version crash in GP by moving an assigned hardware controller fast/repeatedly (reported through the crash reporting window in GP), but the latest version of the Reason VST seems very solid.
It's good to report that feedback on the reason forums…apparently a lot of DAWs are having trouble with it so it's good to know that it works with GP
Reason 11 has been released — I upgraded my personal copy so I could have the plugin — it really works very nicely with Gig Performer.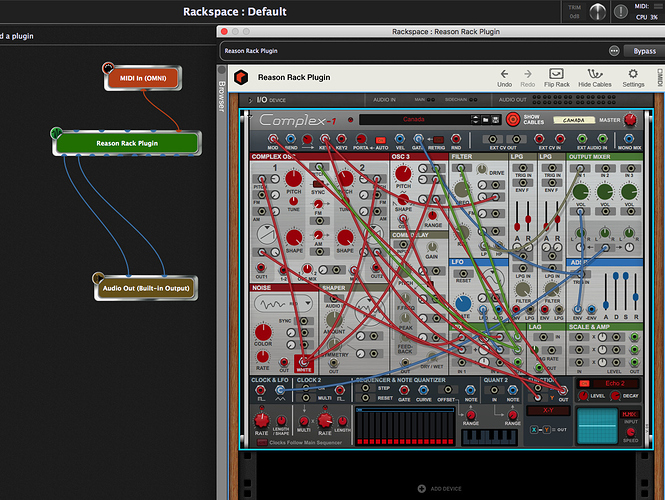 But the DAW itself is not working as a plugin, right?
They didn't make the DAW a plugin, just the synths and effects.