I have a question about the 1 and 2 buttons in the lower right of the main screen: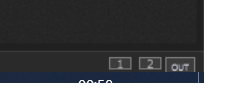 Until earlier, I got on the places of the 1 and 2 (output) buttons a level meter instead of a mute (or maybe it could be used to mute too).
Anyway, I really want those Left/Right level meters back to see if my sounds are clipping or not. I am not sure if they were actually level meters or green/yellow/red boxes (to show clipping).
Clicking them only results in muting the left/right channel and I cannot see anything in the Options/Display menu.
How can I restore the level meters?