Apologies for a numpty newbie question
I have a practice rack space with a couple of VSTs including one called VSTSynthFont64 which is associated with a MIDI-input block set to a virtual midi port (LoopMIDI) and connected to the output of another Windows app.
VSTSynthFont64 is a multi-timbral GM MIDI player, I guess a bit like Sound Canvas in days past, but sits nicely in the Gig Performer rack.
This works well, and the audio generated by VSTSynthFont64 within my rack is fine.
The issue I have is that the external app send Program Change messages to select the instrument on each channel within VSTSynthFont64. When it does this, instead of changing the instrument selection within the target VST, it selects a different Gig Performer rack, taking the focus away from my selected rack.
I understand that this is the normal behaviour and that typically you would want the program change to change the rack, but in this specific case it is not the behaviour I want. Is there a way for me to a) stop the program change message changing the Gig Performer rack in this specific setup and keep the focus on the selected rack, and b) allow the program change message to get through to the VSTSynthFont64 VST plugin.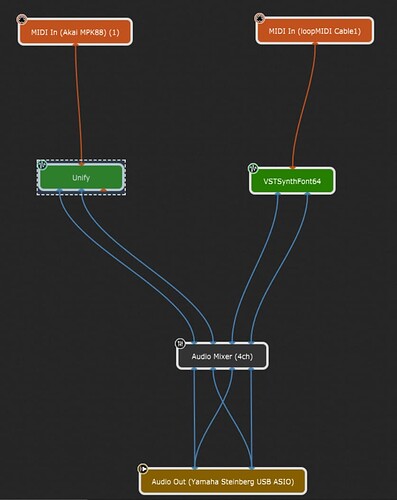 Thanks