If you are ever in Asheville, North Carolina… be sure to make time to visit Moog for their 'factor' tour. Amazing place, fantastic products.
Totally agree
It was on my list when I attend ContinuuCon 2016; loved every second!
MakeNoise is also in Asheville, we were spoiled as the reception was at Make Noise space.
I have not owned or used in the past any Moogerfooger but i like the Moog sound and took the change to play around a bit with the new Moogerfoogers VST. My experience sofar (after a few hours):
---- IT'S FUN
---- Endless spaces of wonderful / unexpected / chaotic sounds
Due to the included presets (covering many different sound areas) it's easy to play around with and get quickly good results. The user interface is very clean / simple but you may need to invest some time to get a deeper insight to develop you own sounds.
I found the following videos (related to the original HW versions) very useful:
Moog Moogerfooger Demo with Jake Widgeon
Moogfooger Delay
Moogerfooger RingModulator
Moogerfooger Phaser
I was surprised that the CPU load is low / acceptable compared to other Moog SW (eg Model D) .
Attached is a small test gig incl panels covering the key parts of the UI.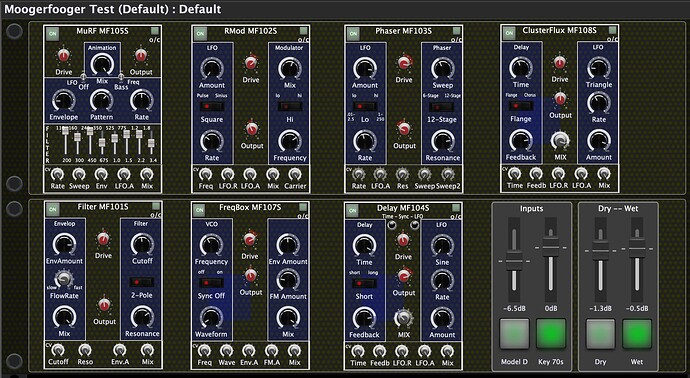 MoogerFooger Test.gig (2.5 MB)
Thanks for the gig file @Charly
I was part of the beta testing and first thing I did, besides installing on latest Mac Studio/ Monterey, I also went to run the Moggerfoogers on my oldies iMac and MBP on High Sierra; and I was very happy with how well they performed!!