Hi again,
I know this could be submitted as a support ticket, but I'd rather have an open discussion about the issue I'm facing. (If admin disagrees, feel free to remove this and contact me directly)
THE PROBLEM
Okay, I've already started a thread about what I'm trying to achieve using GPScript. I now have several ways of achieving that goal (thanks to the brilliant feedback I got from you guys there!).
But, this journey led me to discover a weird bug(?) when using a MIDI controller (MeloAudio MIDI Commander / Harley Benton MP-100) to trigger a button widget, which in turn triggers a script.
SETUP
Two expression pedal widgets
One button to switch between two plugins (bypass)
MIDI controls the button (CC#80 0 = Button OFF, CC#80 127 = Button On)
Script picks up the value of the button, decides which plugins to bypass
SCRIPT
Var
   GainBalance : PluginBlock
   GainPedal : PluginBlock
   WahPedal : PluginBlock
   WahActive : Widget
  
// Called when a widget value has changed
On WidgetValueChanged(newValue : double) from WahActive
  if newValue < 0.5 then
    SetPluginBypassed(GainPedal, false)
    SetPluginBypassed(WahPedal, true)
    Print("Volume")
    Print(GetWidgetValue(WahActive))
  else
    SetPluginBypassed(GainPedal, true)
    SetPluginBypassed(WahPedal, false)
    Print("Wah")
    Print(GetWidgetValue(WahActive))
  end
End

RESULT
If I trigger the button widget manually from the rackspace, everything works as intended.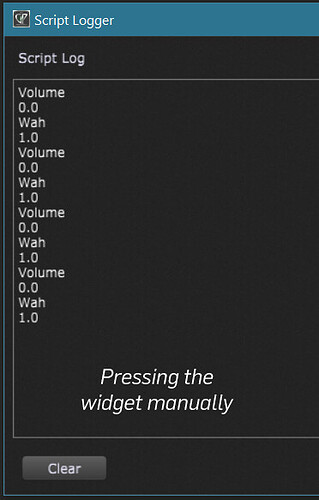 However, with the MIDI controller, this doesn't happen the same way. The MIDI controller itself sends the correct values (0 and 127), the button widget respons correctly, but the widget value becomes inverted.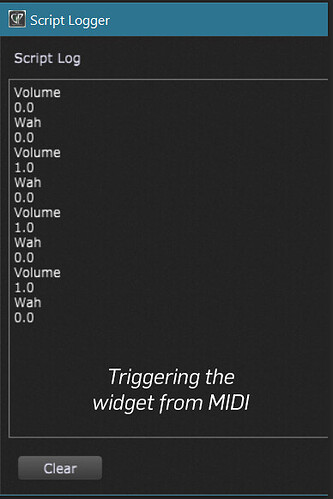 It started correct, since I reset everything using the widget. But once I start triggering the widget using MIDI, it flips and 0 becomes 100.0, 127 becomes 0.0. This happens every time, even if I activate INVERT in either the widget value or on the MIDI parameter. What's weird is the widget shows me the correct change (On = Button lights up), but the value is flipped.
Gig-file: wah-midi-issue.gig (18.2 KB)
If anyone with a MIDI device reads this, would you please open this gig and assign the button widget to a controller and see what it does on your end?