Lingering question that has recently become a major annoyance…
I'm on a 13" Lenovo Yoga 720 laptop. Plenty of horsepower for what I need to do with GP.
On GP2, I had a weird issue where Kontakt 5 would open up in a box too small (regardless of if I opened it via edit plugin or double clicking in the connections window) for me to see the controls. Normally I could exit the window and open it, wash/rinse/repeat about 2-3 times and low and behold, it'd open up right. i.e. with a window where I can see the whole Kontakt instrument and browser.
Upgrade to GP3, and I've been using older gigs and not had to make a new one/edit anything in the plug in and not in the widgets, so I haven't seen this until now when I need to make a new chart.
I open Kontakt 5 (just make sure both it and GP were most up to date) and… it's a tiny window. Except this time, no amount of closing and opening can get windows or GP to make a big enough window, OR scale the DPI correctly.
My scaling was set to 150% because… this is a 1920x1080 panel in a 13" body, and that makes everything TINY on the screen.
The ONLY was that I can get a Kontakt to open up with a window big enough to see everything is if I set my scaling at 100%. But now everything is super small. Here's a picture of what I see.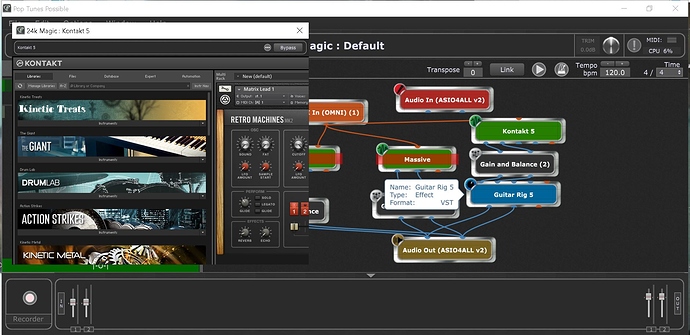 Anybody got any ideas? I've been at this for too many hours already.