For the past 5 years, I have been setting to music and sound the writings of Jean Azarel, french poet, novelist and biographer.
We presented for the first time our latest creation, "Passe-Montagnes", a poetic account of hikes on Mont Lozère in the south of France, for which I composed a minimalist musical accompaniment and mainly a mix of field recording files to create a realistic and enveloping sound immersion that follow the seasons.
This performance took place last Friday in a beautiful, recently renovated underground amphitheatre (in Uzès, south of France) which was very inspiring and had excellent acoustics.
I felt really comfortable and relaxed in this atmosphere on the one hand, and on the other thanks to a well-prepared and programmed gig whose rackspaces I went through with relish.
The kind of performance we do (akin to spoken word) is aimed at a targeted audience and usually takes place in sites other than concert halls and the like.
It is most often bookstores, media libraries, historic places or festivals dedicated to literature, and they are therefore often original and unexpected places as below (amphitheatre built in the Middle Ages) or on the following in the Hotel de Varennes (Montpellier) dating from the XIIIth century, and on the last one in an open air festival (Voix Vives, Sète) where we presented last summer 3 different works over 3 days in 3 different places (all built and decorated for the occasion).
Accompanying music for literary works does not consist of verses/chorus/breaks/etc, but rather is similar to soundtracks for movies: music, sound and atmospheres sequences follow one after the other and
often have to overlap (thanks to audio tails and midi patch persist
) and even a recurrent musical theme needs different rackspaces according to the desired mood.
I play alone on stage and do the work of several musicians by means of Midi Guitar to have a panoply of varied instruments superimposed with loopers, while being able to simultaneously trigger the files of environment sounds, pre-recorded loops and other stuffs, the whole in a ballet of footwork on the pedalboard and with a smile… like in a toothpaste advertising.
My rig is very compact: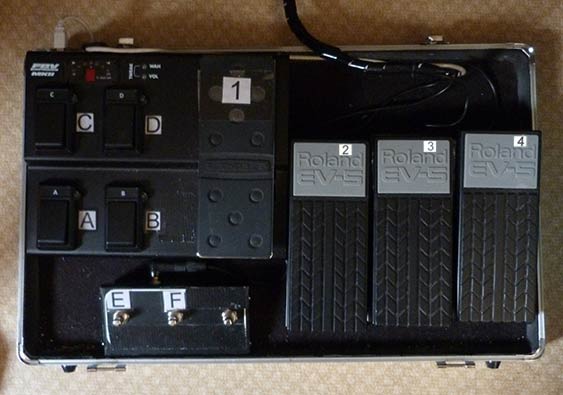 For those who want to listen to French poetry (double punishment
) you can listen to our work on Soundcloud. These home-made recordings are played exactly the same live thanks to Gig Performer.
Headphones usage is recommended for the most recent one "Passe-Montagnes" (and some others) for a better sound immersion.
Thank you to the community that gave me the ideas and knowledge to make my projects a reality