How do you all set up your parallel FX in GP?
I use GP for a guitar rig and like to run delay and reverb in parallel to the 'core' sound - this gives a pseudo wet-dry-wet sound as I set the core, 'dry', guitar sound up in mono and then the reverb and delay are stereo.
The image below is how I currently do it. The dry sound comes in to the volume pedal and from there goes both to the wet/dry mix (this is the dry sound) and also up to the delay/verb send. From the send it goes to the delay and reverb plugins and then to delay/verb return - the idea of these two is to a) split the signal to each FX and b) to be able to control in and out level. The mix of delay and verb goes in to wider which I can use to control the stereo width and then to a final level trim and then in to wet/dry mix.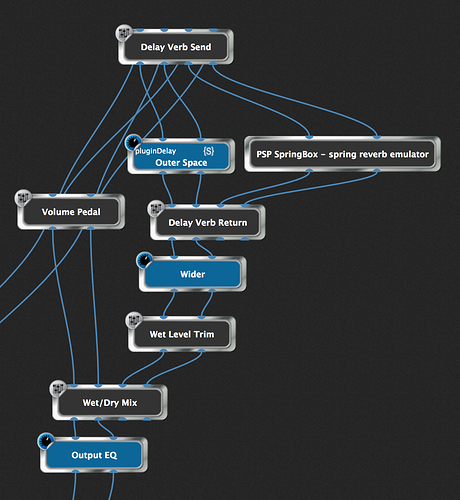 It works, but seems very complicated and there are far too many gain stages involved. However I can't find another way of getting a satisfactory balance of wet and dry, especially when the delay and reverb are bypassed - when this happens you lose about 3dB or so dry sound…
I've contemplated just moving back to in-line FX but I would lose the wet-dry-wet feel of it.
And possibly I am just over-thinking it all… Anyways, will be interesting to see how you all do it!