Windows 11 21H2 - GP 4.5.8
I suddenly encounter 2 malfunctions in GP in my desktop PC:
The characters in the rackspaces names are much larger than before and I couldn't find anything in the forum about this, is it a problem or a function that I do not know?
The left picture is ok, the right one is what happened:
When I launch GP from a *.gig file in Windows Explorer, a series of windows open (the second one indicates the original location where I downloaded the last GP update long ago).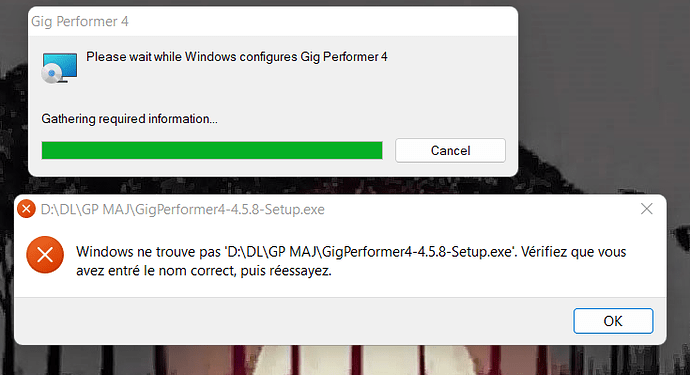 This may be irrelevant, but by listing the installed programs, I found an old version of GP still present (unused) which I uninstalled to clean the system. I then ran a Windows restore from a 3 day old automatic restore point.
Then when I launched GP (4.5.8), it was deactivated and I had to enter the login and license key to open it (GP is used in desktop + laptop partitions). Maybe because I uninstalled the old GP version without deactivating it first?
Result:
The characters in the rackspace names returned to their usual size.
The problem of launching GP from a *.gig file is still the same.
I guess I have to deactivate/uninstall/reinstall/reactivate GP 4.5.8.
I'm only waiting to see if there is anything to do or send to you before I start the reinstallation.
P.S.: When using a Windows restore point, should GP be deactivated beforehand?