This gig file features two sounds (in this case organ and piano - of course, you can use other plugins/sounds) and the various possibilities of how to use them - this is implemented using rackspace variations.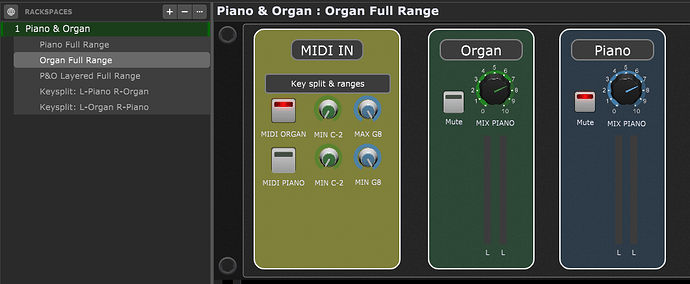 Use these variations to easily switch to the following:
each instrument as solo
as a layered sound (the separate volumes are adjustable)
as variable key-split
Since there are widgets for the MIN/MAX note of the keysplits for each instrument, not only you can easily define where the split takes place, but you can also create overlapping zones.
You can switch the Left-Hand/Right-Hand sound assignment by just reversing the corresponding key ranges (might be useful.
).
Note: when changing the split point (or changing the respecting variations) while holding a key, you can experiece hanging notes - therefore, @schamass included a short rackspace script which will send an AllNotesOff on any variation change.
Download: Piano and Organ Variations_V2a.gig (277.0 KB)
Credits: @schamass
–
→ This is the 100th thread in the Gig and Rackspace files category!!!
←