So, it has been 31 years since I played out live. We did a set of all 80's stuff and GP performed fantastically.
Just a quick pic during the setup. Yamaha MX61 on the bottom, Axiom 61 and Keystation 49 dedicated to the Dell G15 running GP and all connected to Scarlett 3rd gen 18i20 …
Ran a number of Step Sequencers for drum and synth patterns for song like "Relax" from FGTH and for Save a Prayer from Duran Duran, as well as lots of Arturia CMI, JP8 emulations etc. along with Korg Collection suite (Odyssey, Poly 5, MonoPoly, etc.
The power of GP I have only scratched the surface. it was a tons of fun. I am now moving into Marillion and work on converting all my old Forte setups over with tons of imporvements that GP bring to the table.
Thanks for the community and a damn fine piece of software engineering …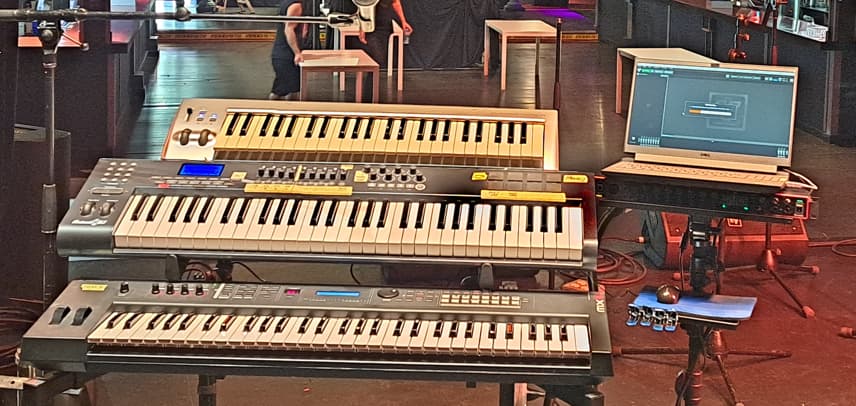 One note: During setup to the board, the sound tech asked if I could boost my signal a little. I mentioned I cannot. I had originally set up my rackspace to -2dB so that once levels were set I could give a little boost to certain sounds if they weren't cutting through from the Axiom faders for a little more headroom. This proved to be self defeating …
I recalled Forte had a "general setting" where you could pick a default trim level up to +6 or whatever whereas GP only goes up to 0 dB.
I had mentioned this in a post request (for the ability to set this per rackspace with perhaps an upper limit or a widget that would allow past 0 dB) but was denied. The global ability to set an upper Trim in Global settings for this particular instance would still have been nice, yet still provide protection where the Master Trim knob could not go past 0dB in a rackspace or on screen.