With a permission of Bill, I'm sharing Bill's setup that he posted on Facebook, October 5th.
Another flawless performance by Gig Performer last Saturday night.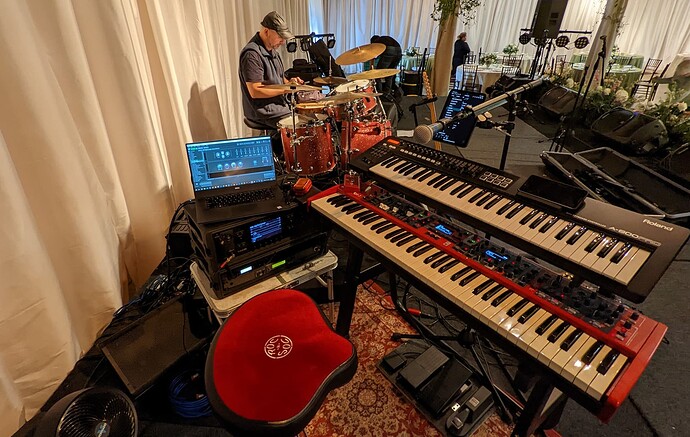 He was playing in North Carolina for a wedding near Chapel Hill.
The keys are Roland A800 on top and a Nord Stage 3 Compact on the bottom. Audio for the Nord goes into the Line 6 Helix Rack. USB from both keys and Helix goes to a USB hub and then to the Dell XPS 15 laptop (32GB, 2x1T SSD).
The Helix serves as the audio interface for the system.
The iPad Mini runs OnSong which sends MIDI Program Changes to Gig Performer to select different rackspaces; then rackspaces send MIDI PC to the Nord.
Below the Helix Rack is Bill's wireless rack - Shure GLXD for guitar and MiPro Mi-909 for IEMs.
Sometimes it's something as simple as my Piano rackspace which allows me to play piano on the bottom and B3 on the top (both audio coming from the Nord) and sometimes is gets really complicated like the Billie Jean rackspace which sets up 4 zones on the Nord and 5 zones on the A800.
Most of the time my VSTs are from Arturia, but I also trigger samples in the Audio File Player. In addition to samples, some rackspaces use the Audio File Player for tracks, other times loops. Audio from my playing goes out to USB 1/2, tracks/loops go to 3 and click goes to 4. The Helix routes all of those to appropriate outputs for FOH.
You can find Bill playing in True Blues.