Hello all my GP friends,
So as I'm learning to use GP, of course I want to expand my options. After all, the possibilities are endless, right?
I just picked up one of these:

To start, GP detects the new foot controller straight away.

However, none of the foot switches are programed out of the box, but the best part, you can program the switches in many fashions using this screen:

For a simple start, I'm attempting to program Footswitch 4 to control the System Actions - Parameter 41 - NextSongpart: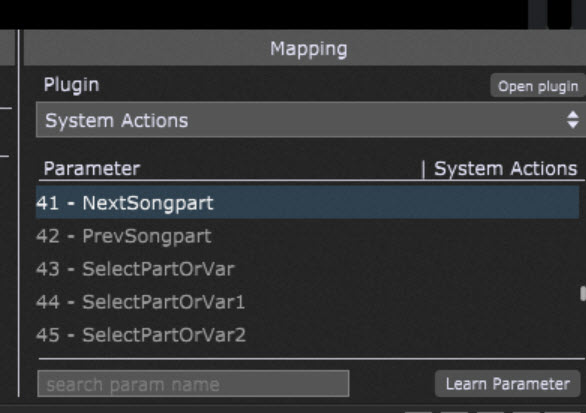 My problem, I cannot use the "Learn" function because the foot switches have no natural programmed state - they are blank so-to-speak.
So what should I use to trigger the Systems Actions - Parameter 41 - NextSongpart?
Is it a PC change or CC change?
In the example below, I programmed FS4 for MIDI Channel 10, Type CC, Data 1: 41 (parameter number?) and Data 2 as 127. However, the result when tested, it changes the song list to Song Number 1, rather than next song part. Also, if I'm in the Panel mode and test the switch, it changes to Rackspace Number 1, only mentioning this for help in diagnosis.

I've checked both the Global MIDI Monitor and a MIDI Monitor inserted into the specific Rackspace, and the footswitch does register in both monitors, it's just not controlling the Next Song Part system action.

I'm sure it's something simple like PC change rather than CC, or specific parameter numbers, but it seems no matter what I try, the switch just changes to the first song in the song list instead of advancing to the next song part.
As always, all your help is deeply appreciated.
Thanks in advance!