Part one of this series will focus on how I use Gig Performer 3 in my current working keyboard rig. I know there are many different approaches to using Gig Performer. This is just one of those many approaches. I know there are tons of other ways I could have approached my rig, but this is the one I chose and stuck with through the current version of my rig.
Here are some pictures of me with my rig in action.
All the gear listed below impacts how I use Gig Performer. Yes, it is a bit complicated, but my rig allows me a huge amount of flexibility. There is more gear in my rig than listed below, but this is the heart of the machine.
Current Hardware Setup
Roland Fantom X7 (top keyboard)
Korg Kronos (2011) 73 key (bottom keyboard)
Novation Launch Control (Mini) on upper left of top keyboard
Roland AX-1 Keytar (controller only)
PandaMidi MidiBeam Wireless Midi System (for AX-1)
MOTU Microlite USB/MIDI interface
Custom Built Rackmount PC (my own creation)
Behringer XR18 (for audio interface and rig submixer)
Q's String Instruments Custom Built Guitar (with 57 classic pickups)
DPA 4488 Headset Microphone
Shure SLXD Wireless System (for headset mic)
Samson AirLine 88 Guitar Wireless System
TP-Link router (for XR18/PC communication)
(2) Nektar NP-2 Universal Sustain Pedals
Dunlop DVP1XL Expression Pedal (for Fantom X7)
Korg XVP20 Expression Pedal (for Kronos)
Roland SPD-30 Octapad (belongs to the drummer and sits with his kit)
Here is a routing diagram of how everything routes in my rig (audio, USB, MIDI). How this all works makes a huge difference in approaching everything. Note that I send 6 buses to Front of House. We have an excellent sound engineer that I work with closely to make sure I'm getting good sound out front. Note that in Gig Performer, audio in 1 (microphone) and 2 (guitar) from the XR18 are available in every rackspace.
Vocal (mono)
Vocoder (mono)
Keys (stereo)
Guitar (stereo)
I won't list ALL my VSTs as that is a far longer list than my hardware setup. I can say though that
I primarily relay on NI Kontakt, the Arturia VCollection, a few effects plugins from Waves, SynthMaster and SynthMasterOne. There are a few other odds and ends I use, but that's my general go-to list.
The right expression pedal and sustain pedal are connected to the Kronos, with the left expression pedal and sustain pedal connected to the FantomX. I have a 'standard' two widget panels on almost every rackspace. Panel one has widgets for the right sustain and expression pedals connected to the Kronos.
Panel two routes the sustain pedal, expression pedal and D-beam on the FantomX along with with the far right pad on the LaunchControl as the microphone kill switch. I can use this to either simply mute the mic (if desired), or on songs with vocoder, I use the kill switch as the mic is mapped through the XR18 as the modulator for a vocoder. For some songs, this will be switched on and off throughout the song. "Closer" by the Chainsmokers is a good example of this in practice.
I have six general approaches or rackspace types I have set up for different songs in Gig Performer. These are listed in order of quantity of rackspaces for each type in my main gig file.
Stationary Keys only
Guitar only
Keytar with Stationary Keys
Stationary Keys with Vocoder
Guitar + Stationary Keys
Guitar only with Vocoder (for talkbox style effects)
I will cover most but not all these rackspace types in this article.
I use a mix of hardware synth engines and VSTs for 90% of my keyboard only rackspaces. I also use a single rackspace per song with no variations and I don't use multiple song parts. Everything is single rackspace/single song part per song in my setlist. When I change songs, it resets everything in my entire rig (hardware and software). I also send program changes to my drummer's Roland SPD-30 Octopad with each rackspace.
I only use performances on the FantomX and combis on the Kronos. I never use single patch mode on either. I change via combination of bank and patch number changes.
Stationary Keys Only – Simple Example
Some of my rackspaces/songs are very simple, such as the rackspace for "Boot Scootin' Boogie". For this song, I use a built-in piano on the Kronos, and then map the X7 to VB3 in Gig Performer for an organ sound. I have the left expression pedal mapped to volume/swell on B3-V2 via the widget and I have the left sustain pedal mapped to slow/fast on the Leslie on B3-V2.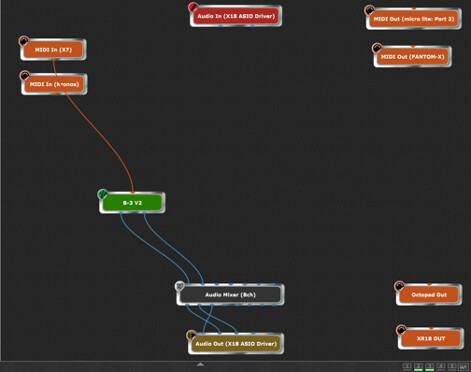 Stationary Keys Only – More Complex Example
We've been performing a pseudo-medley of the two Backstreet Boys songs, "Everybody" and "Larger than Life" for about three years now. This rackspace does a ton of splits and note remapping to pull off the entire sonic keyboard space of the songs. I use multiple instrument slots on both the FantomX and the Kronos, along with multiple VST instances. One of the things that was important to me in performing this song was being able to face the audience while playing it. If you can't tell from the pictures, I play at a 90 degree angle to the audience on stage right, with the back of the keys facing stage left. I regularly play with just my left hand to face and interact with the audience when possible. My first goal was to play all parts through the intro with just my left hand (this includes multiple chords and 4 distinctly different sounds).
I looked at doing this with the Kronos natively but found it a bit difficult to implement. Additionally, I wanted to split the sound onto multiple tones/channels so that I could set the volumes a bit different. Also, to pull this off one handed, I had to remap multiple keys in a way that wouldn't make sense to anybody that walked up to the Kronos and tried to play the song.
With a single hand, I cover multiple inversions across tones on the Kronos, the first instance of SynthMaster One and an instance of Matrix 12 V2.
As illustrated in the wiring view, most blocks are MIDI in blocks with significant remapping going on.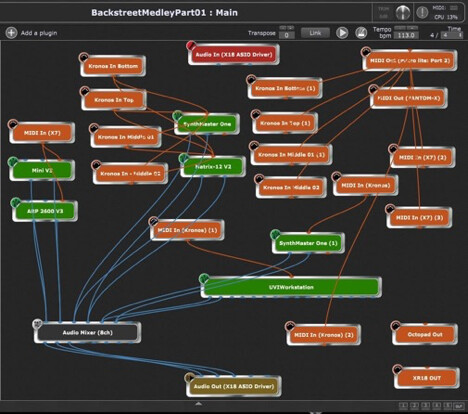 Guitar Only – Simple Example
With guitar rackspaces, I generally keep things rather simple. Unless I have a 'talkbox' or additional samples I'm kicking during a given song, I just use a single instance of Guitar Rig 5 in between the audio in block from the XR18 and the mixer. I do however regularly route the expression pedals and/or sustain pedals to functions such as volume, on/off for stomp pedals and wah-wah.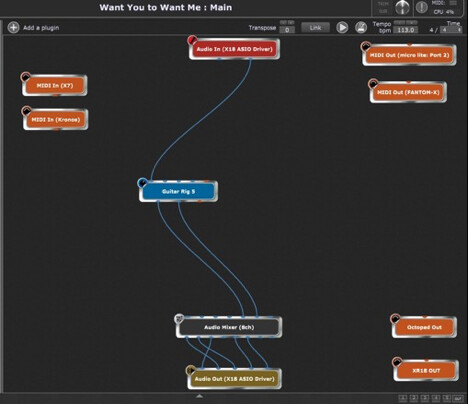 Keytar and Stationary Keys
For "Save a Horse, Ride a Cowboy", I sing one of the two lead parts and play banjo samples for most of the song on the keytar. There is a fiddle solo in the middle of the song that I will play on the Fantom X7 keyboard as well. Here is the rackspace for that approach.
When I was using a Vortex wireless instead of the AX-1 as my keytar, I could raise and lower several octaves. I found sometimes that trying to do essentially scroll up and scroll down octaves quickly wasn't always reliable. That's why I 'failed back' to using a stationary keyboard for the fiddle solo in the song.
That's also why you can see connections for both the Fantom X7 and the Keytar to Kontakt for the fiddle sound. Also note that both the Kronos and the Keytar map to SampleTank for the banjo sound. This is because every Keytar song I have includes 'fail back' to stationary keys just in case. I have had reliability issues with the Vortex wireless keyboards where this became invaluable. I approach every keytar song this way.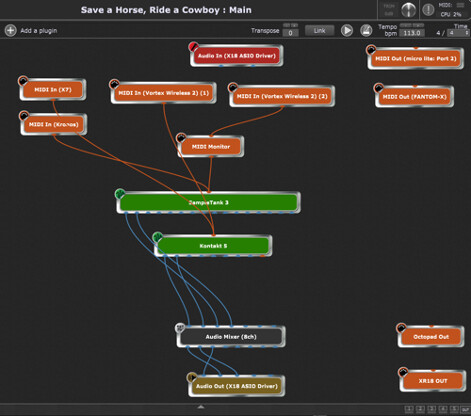 Stationary Keys with Vocoder
For the song "Closer" by the Chainsmokers, I use a variety of splits and layers, combined with Vocoder for an additional high vocal part during the pre-chorus and chorus. For the vocoder, I use Waves Morphoder. It has been the best CPU efficient, good sounding, low latency vocoder VST I have found yet, and I've used five different vocoder VSTs over the last seven years. It's become a running joke in my band that every time I say I've got a new plugin, the question is "Oh, you got another vocoder?".
For this rackspace, I use the far right pad on the LaunchControl as a microphone mute. There are times I want vocoder only, and other times I want vocoder with vocal. The far left pad on the LaunchControl is used as a 'latch' for a sample in Kontakt that does a long swell in a more dramatically dynamic part towards the end of the song. I recorded multiple parts in Studio One, bumped a mixdown and then imported that into a custom Kontakt instrument. I may look at approaching that differently in Gig Performer 4.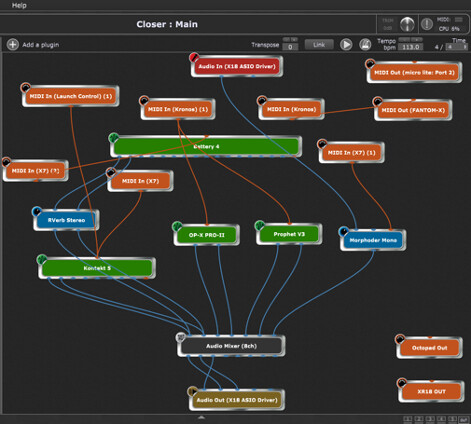 Guitar with Stationary Keys
On the song "Pour Sugar on Me" by Def Leppard, I play rhythm guitar with one boosted lead part in the middle. I also play samples on the keys for the "Huh" and "Hey" gangland vocal parts to augment the bands vocalists as well as sing backup vocals. For boosting the gain on the amp in Guitar Rig, I use the right sustain pedal as a gain 'stomp box'. The gain starts at lower volume, then boosts when I do a momentary press on the pedal. A secondary momentary press releases the gain back to the original level.
Conclusion
I know there are a few messy and inconsistent items from rackspace to rackspace, but everything works as expected in a live show. I'm hoping that this article may spark some ideas for others who use Gig Performer. I know that writing this article while I'm in the middle of my migration to a new live rig has caused me to change some of my approach with the new buildout with Gig Performer 4.
Stay tuned for part 2 of this article slated for about two months from now after I've completed the full rebuild and I've taken it out for at least one live show.
Keep on giggin' with Gig Performer!
X