Blue Weaver is a well-known keyboardist and producer. Here is a long list of the projects, artists and groups with who Blue has worked (Bee Gees, Strawbs, Alannah Myles, Barbra Streisand, Duran Duran, Lou Reed, Michael Kamen, Neil Young, Pet Shop Boys, and many others).
Blue Weaver has played on and contributed to the sound and the shape of an enviable array of gold- and platinum-selling records, heard by tens of millions of listeners in the United States alone, in between playing a key role in the development of English folk-rock. Read here the full "bluography".
Blue is also an early adopter of Gig Performer. In this interview, Blue explains why Gig Performer is a perfect choice to recreate his sounds from classic hits.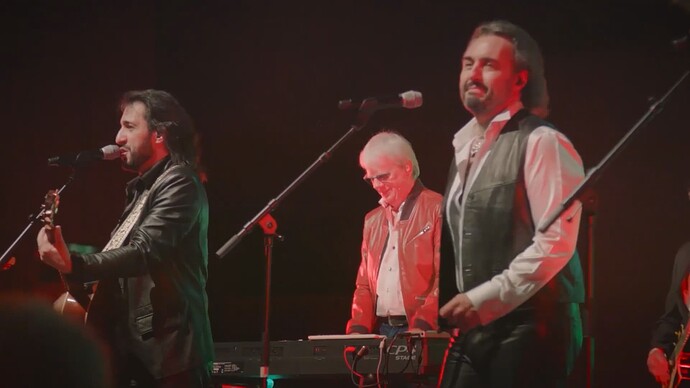 Gig Performer enabled Blue to do the Massachusetts tours with a rig consisting only of a Yamaha CP4 Stage Digital Piano, a Korg nanoPad2, and a Mac Mini running Gig Performer, which hosted, controlled, and mixed all his virtual instruments.
He especially praised Gig Performer's "patch cord" connection system as the key to assembling his system quickly, and then Gig Performer's reliability, low CPU usage and easiness to understand what's going on in the setup.
I come from the '70s, when, if you wanted to connect something in the studio, you used a patch cord. I love that way of doing things, and in an analog studio, that's exactly the way everything was connected. To be able to do that now digitally on a screen is amazing!
Currently, Blue states that he uses a lot of synth sounds that are only used for specific riffs like on Jive Talkin' then he switches back to a Rhodes. A lot of these end with a high or low note so he programmed the release of those final notes to a program change to the next sound (which is "so easy with Gig Performer").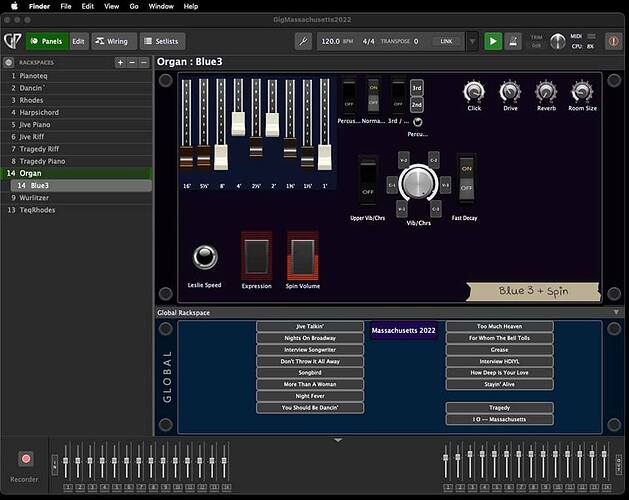 This is the start of Blue's organ rack. Sometimes he uses an Akai Midimix for the physical drawbar control but also he has a small Ocean Beach drawbar controller.
Blue is in the process of creating a new touring keyboard rig:
I used a Yamaha CP4 but I only used as a controller so now using a Doepfer With 88 Fatar weighted keyboard which will be built into a case container Mac Mini , RME Babyface, 7" HDMI touchscreen and 16 programmable buttons for program changes so all will be lighter look better and more manageable… I travel now to Sardinia and only take the Mac, 7" screen and RME with me as they supply a controller keyboard. Gig Performer is perfect for me!