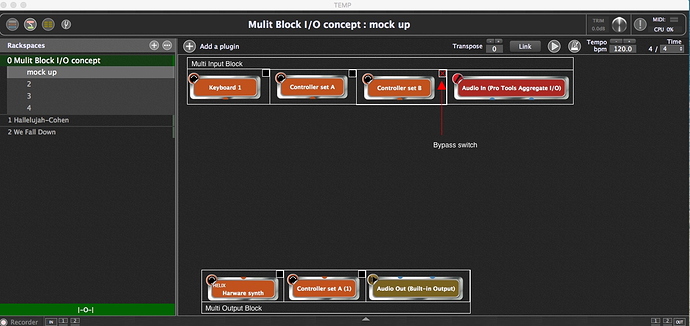 The redundancy of having to replicate my input blocks every time (or updating them to reflect an addition) is tedious. If you could create a user defined custom input/output "multi block" module that be inserted in a single instantiation maneuver, it would improve work flow tremendously!!
Have this "multi block":
be able to have as many separate input/output MIDI (and or audio) blocks as the user desires,
have the parameter setup for each of the modules be remembered as a "default" state,
have a bypass toggle control for each of I/O modules (as desired)
have a user definable "default" state for the entire "multi block' that loads automatically
use GP's usual block load and save feature to have predefined alternate setups.
Creating or tweaking a rack could be done so much faster. I just went though something like 60 racks yesterday to update them to my current I/O configuration. For each one, I had to load up to 3 MIDI input blocks, 2 output blocks and then load the saved parameter settings for each block. At 6-10 clicks per block, that's 30-50 clicks per rack space. At 50 rack spaces that's 1500 - 2500 clicks. Verses potentially 300 (@ 6 clicks per rack).
Now I realize that implementing this entire concept would take some time. But I would LOVE to have #4 implemented per I/O block right away. (Would have brought my scenario down to (3 clicks per block x 5 blocks x 50 racks) 750 clicks from > 1500.