Installed successfully with Native Access - error loading - see image.
It opens in Stand Alone mode.
Any Suggestions?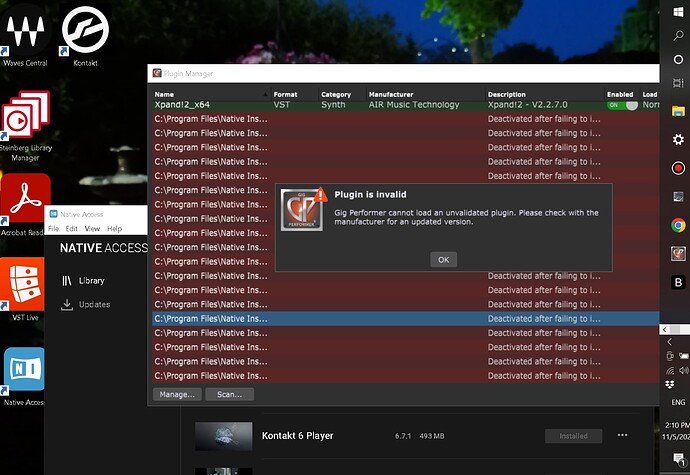 Does it work with another DAW?
What happens when you rescan invalidated plugins?
Rescan fails.
Just tried it in the "New Kid On the Block" - Steinberg LIVE.
It Works!! (Yikes!)
NOT optimal - LIVE is clunky and not nearly as full featured as GP
And it is the 64 bit version of Kontakt player?
Did you remove the red entries in plugin manager and did a new scan?
Good Grief - I watched the reloads after removing the red ones. Says they are 32 bit. I'll have to uninstall Kv6 and try again.
Thanks!
Yeah, we don't support 32-bit at all — the other guy must be including built-in 32-bit bridging
I know for certain the 64-bit version of Kontakt works fine with GP.
Installed Kv7 Player and reset all plugin folders to exclude VST2 paths. Everything is loading fine.
Now I can try out the NEO Soundstation 2 which requires Kontakt v6 minimum,
Thanks again!