For my own education in GP scripting, I started to write a script for implementing "presets" radio-button for changing from current to another Rackspace/Variation. The idea is to add a panel of buttons and a script to a set of rackspaces. This is how it looks :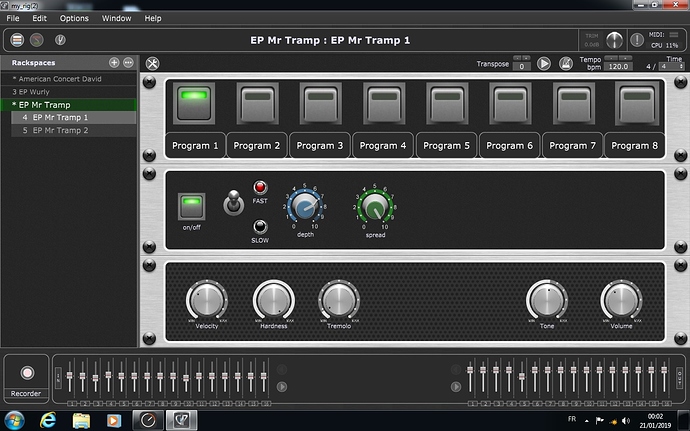 My script works fine until I activate the "SwitchToProgramNumber" option. I have a "doSwitching" Boolean variable for this purpose in the Initialisation section of my script. When "SwitchToProgramNumber" is activated the script starts to live from its own will
I added a set of deguging "Print" for better understanding what happens, but I still don't.
Could someone clarify this behaviour to me ?
Here is the script :
    // Tell GP Script the names of our widgets and FLAGS
var
    MIDIin             : MidiInBlock;
    Button1, Button2   : Widget
    Button1_pushed : Boolean
    Button2_pushed : Boolean
    doSwitching    : Boolean   

//    LedButton          : Widget Array
//    Label              : Widget Array    
//    Button3,Button4,Button5,Button6,Button7,Button8 :Widget
//    Label1,Label2,Label3,Label4,Label5,Label6,Label7,Label8:Widget


initialization

//    OpenLogWindow(); // For convenience

    Print("=== INITIALIZATION ''" + GetRackspaceName() + "'' called ===");
    Print(" ");
    
    // Problems occur when switching is activated :-(
    doSwitching = True; // Do Rackspace/Variation switching
//    doSwitching = False;// Prevent Rackspace/Variation switching
    
    Button1_pushed = False;
    Button2_pushed = False;
    //LedButton = [Button1,Button2,Button3,Button4,Button5,Button6,Button7,Button8]
    //Label  = [Label1,Label2,Label3,Label4,Label5,Label6,Label7,Label8]
    
End


// Called when rackspace is activated

On Activate

   Print("=== ACTIVATE ''" + GetRackspaceName() + "'' called ===");
   Print(" ");

   // Release all buttons
   Button1_pushed = False;
   Button2_pushed = False;

   SetWidgetValue(Button1, 0.0);
   SetWidgetValue(Button2, 0.0);   
   
End


// Called when you switch away from a rackspace
On Deactivate
   Print("=== DEACTIVATE ''" + GetRackspaceName() + "'' called ===");
   Print(" ");

   // Release all buttons
   Button1_pushed = False;
   Button2_pushed = False;

   SetWidgetValue(Button1, 0.0);
   SetWidgetValue(Button2, 0.0);   
End


// Called when you switch variations
On Variation(oldVariation : integer, newVariation : integer)
 
   Print("@@@ VARIATION ''" + GetVariationName(GetCurrentVariation()) + "'' called @@@ (in ''" + GetRackspaceName() + "'')");
   Print(" ");

   // Release all buttons
   Button1_pushed = False;
   Button2_pushed = False;

   SetWidgetValue(Button1, 0.0);
   SetWidgetValue(Button2, 0.0);
   
End

    
// Called when your twist the SLOW_LED_BUTTON widget
On WidgetValueChanged(newValue : double) from Button1

    Print("Button1 callback start ============");
    If (Button1_pushed)
      Then Print("  Button1 ON");
      Else Print("  Button1 OFF");
    End
    If (Button2_pushed)
      Then Print("  Button2 ON");
      Else Print("  Button2 OFF");
    End

    If (!Button1_pushed)
	Then
	    If (newValue == 1.0)
	    Then
		  Print("  Button1 pushed");

		  Button1_pushed = True;   
		  Button2_pushed = False;
		  SetWidgetValue(Button2, 0.0);

		  //SendNow(MIDIin, MakeProgramChangeMessageEx(0,0));//Program, Channel
		  If (doSwitching) Then SwitchToProgramNumber(0,0); End //Program,Bank
	    End
	Else //Button is already pushed
        // with False => keeps out for the moment
	    If (newValue == 0.0)
	    Then
	      Print("  Button1 keeps pushed!!");
		  SetWidgetValue(Button1, 1.0);
		End
    End
    
    
    Print("Button1 callback stop ============");   
    Print(" ");
End

    
// Called when your twist the SLOW_LED_BUTTON widget
On WidgetValueChanged(newValue : double) from Button2

    Print("Button2 callback start ============");
    If (Button1_pushed)
      Then Print("  Button1 ON");
      Else Print("  Button1 OFF");
    End
    If (Button2_pushed)
      Then Print("  Button2 ON");
      Else Print("  Button2 OFF");
    End
  
    If (!Button2_pushed)
	Then
	    If (newValue == 1.0)
	    Then
		  Print("  Button2 pushed");
		  
		  Button2_pushed = True;   
		  Button1_pushed = False;
		  SetWidgetValue(Button1, 0.0);
		  
		  //SendNow(MIDIin, MakeProgramChangeMessageEx(0,0));//Program, Channel
		  If (doSwitching) Then SwitchToProgramNumber(1,0); End//Program,Bank
		End
	Else //Button is already pushed
        // with False => keeps out for the moment        
	    If (newValue == 0.0)
	    Then
	      Print("  Button2 keeps pushed!!");
		  SetWidgetValue(Button2, 1.0);
		End
    End
    Print("Button2 callback stop ============");   
    Print(" ");
End